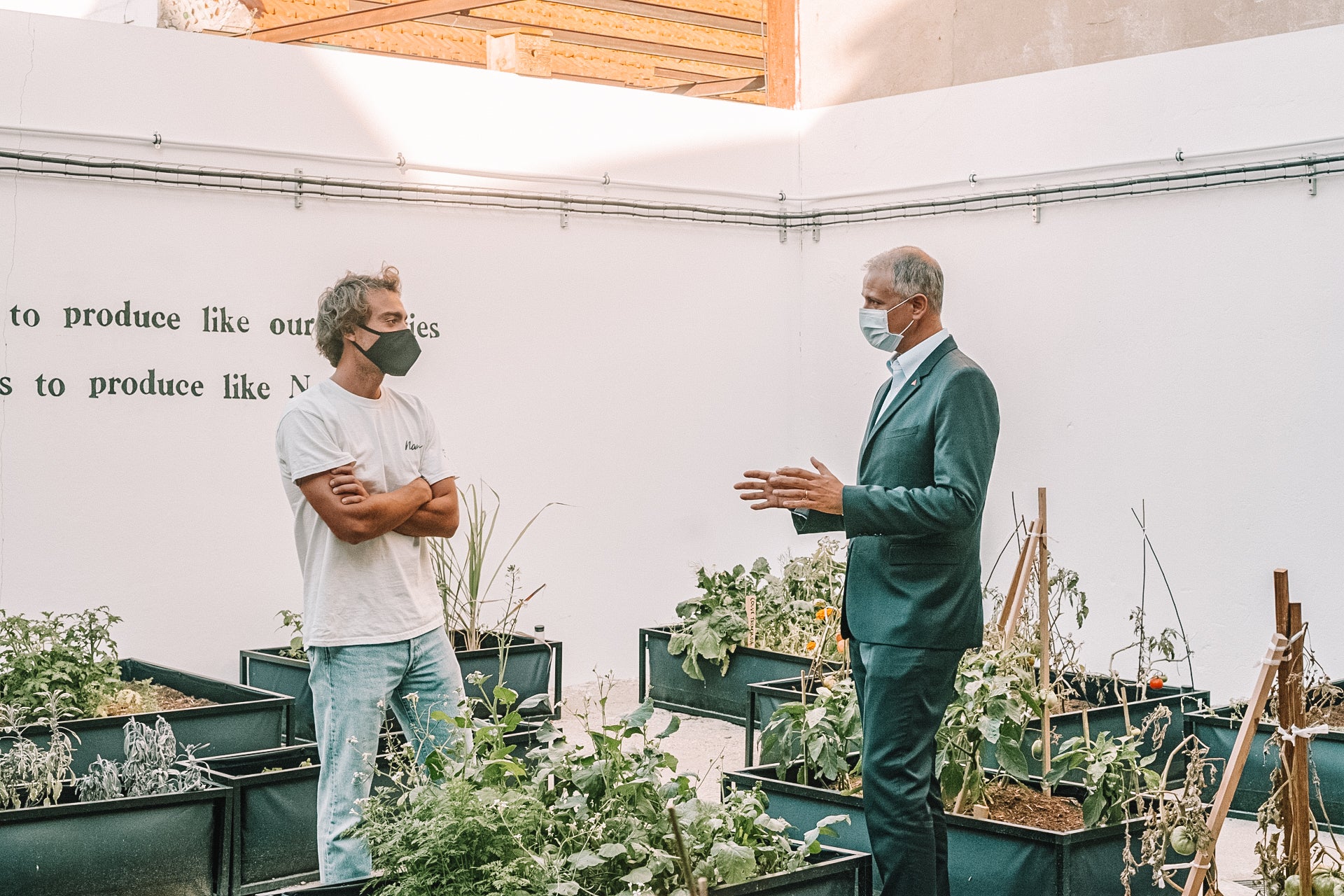 Connection with nature within the city
The partnership with Noocity
Nãm is located in a very busy area of ​​the city of Lisbon and sometimes there is a fear of disconnection with nature. Fortunately, the partnership with Noocity allowed us to further increase our connection with nature on our urban farm!
Noocity is a Portuguese start-up, based in Porto, focused on developing smart products and services for the practice of domestic Urban Agriculture. This start-up allows urban farmers to grow more and better food anywhere, in a practical, efficient and ecological way. With Noocity vegetable gardens, it is possible to bring agriculture to the urban environment and rehabilitate spaces that are often unused.
Nãm has several aspects in common with Noocity, but the dedication to the circular economy stands out. Both consider it important to give waste a new life. At Nãm, waste from mushroom production results in an organic and nutritious fertilizer for growing fruits and vegetables in the Noocity garden. In the end, the Nãm team uses organic and healthy foods to make delicious lunches :)
This partnership is a great opportunity to prove that urban agriculture can be a truly sustainable and productive activity.
The power to change the world is in our hands!
Growing food at home
Do you live in the city and wonder how you can include nature in your daily life? Noocity allows us to integrate Nature in an intelligent and sustainable way into our daily habits!
We can aspire to have anything from a simple aromatic herb garden to a true self-sufficient production in our backyard, balcony or garden!
It is not necessary to be horticultural gurus to be able to grow some vegetables for our meals. Here in our garden at Nãm we chose to install 10 beds where we plant flowers, aromatic herbs and vegetables! We try to create a functional ecosystem for all the plants, which attracts our bee friends and also allows our beloved birds to feed (yes, we have a couple that have settled here above our vegetable garden!).
The combinations we used were beds in which we grouped tomatoes, coriander, radish, watercress, spinach and peppers; beds with herb prince, thyme and lavender.
Marigolds are one of the most used plants in intercropping and natural pest prevention. It is a good company for strawberry plants, beans, raspberries, tomatoes, potatoes and leeks. Acts as a repellent against whiteflies, leek flies, various cabbage pests and soil nematodes. In return, it attracts pollinating insects, lacewings, ladybugs, syrphids (they feed mainly on aphids) and Stink Bugs (predators of mites and whiteflies).
For our "moulching" we use the fantastic fertilizer left over from our production (a mixture of straw, coffee grounds and mycelium) which helps us add nutrients and increase water retention in the beds. Mycelium remains are also essential for stimulating the network and connections between the roots of our plants.
We used the "chop and drop" technique, which consists of removing some parts of our plants and leaving them to cover the soil, as a way of adding more nutrients in a simple and ecological way.
We avoid disturbing the soil so as not to disturb the different layers that are formed, as each layer predominates with a certain type of microorganisms that should not be mixed.
News
In this article, we will answer all the questions about our DIY Grow Kit. You can also find a link to a short 1-minute video presented (very well) by Pimpim that explains how to use our kit! --&...
Read more