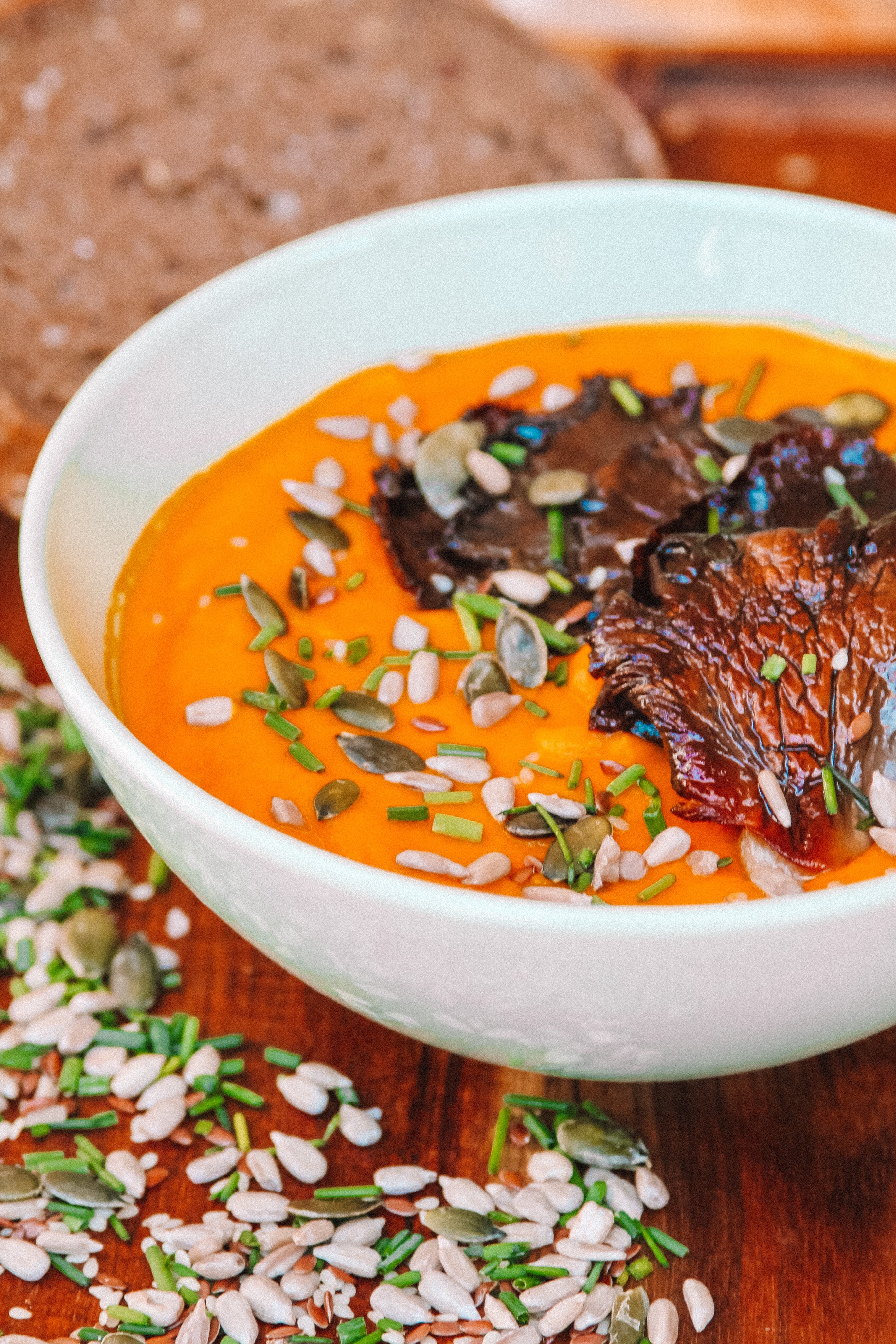 Carrot cream with mushrooms
Are you running out of time or just don't feel like cooking? This carrot and mushroom cream is a miracle solution! We are huge fans of soup because it is healthy, quick to make and tasty! Forget pre-made soups, this one only takes 15 minutes to make and is delicious! Just go into the kitchen, add some ingredients and voila !
Ingredients
- 500 gr of carrots
- 2 cm of fresh ginger (or ginger powder)
- 5 cm of fresh celery (optional)
- 1 teaspoon of ground cumin
- 1 teaspoon of ground turmeric
- 150 gr of Nãm mushrooms
- 1 clove of garlic (optional)
- Chives
- Mixed dried fruits
- Salt and pepper
Preparation
1. Clean, peel and steam or boil the carrots, with the ginger and celery.
2. Meanwhile, heat a pan with a little oil and add a crushed clove of garlic and the Nãm Mushrooms.
3. When the carrots are soft, add  in a mixer and add the cumin, turmeric, extra virgin olive oil, salt and pepper and mix.
4. Place the carrot cream in a bowl and decorate with crunchy mushrooms and some chive leaves and dried fruit!
Enjoy!
Nãm Mushroom Vegetarian Burger
We all have those days when we just feel like eating junk food... We found a way to satisfy these cravings by being healthy! We present to you our vegetarian mushroom burger!  It's super easy to...
Read more
Here we are again for a new recipe! With mushrooms, of course! As you may have already noticed, we like to make quick and easy recipes - but always delicious! Who doesn't love a good pesto? ...
Read more