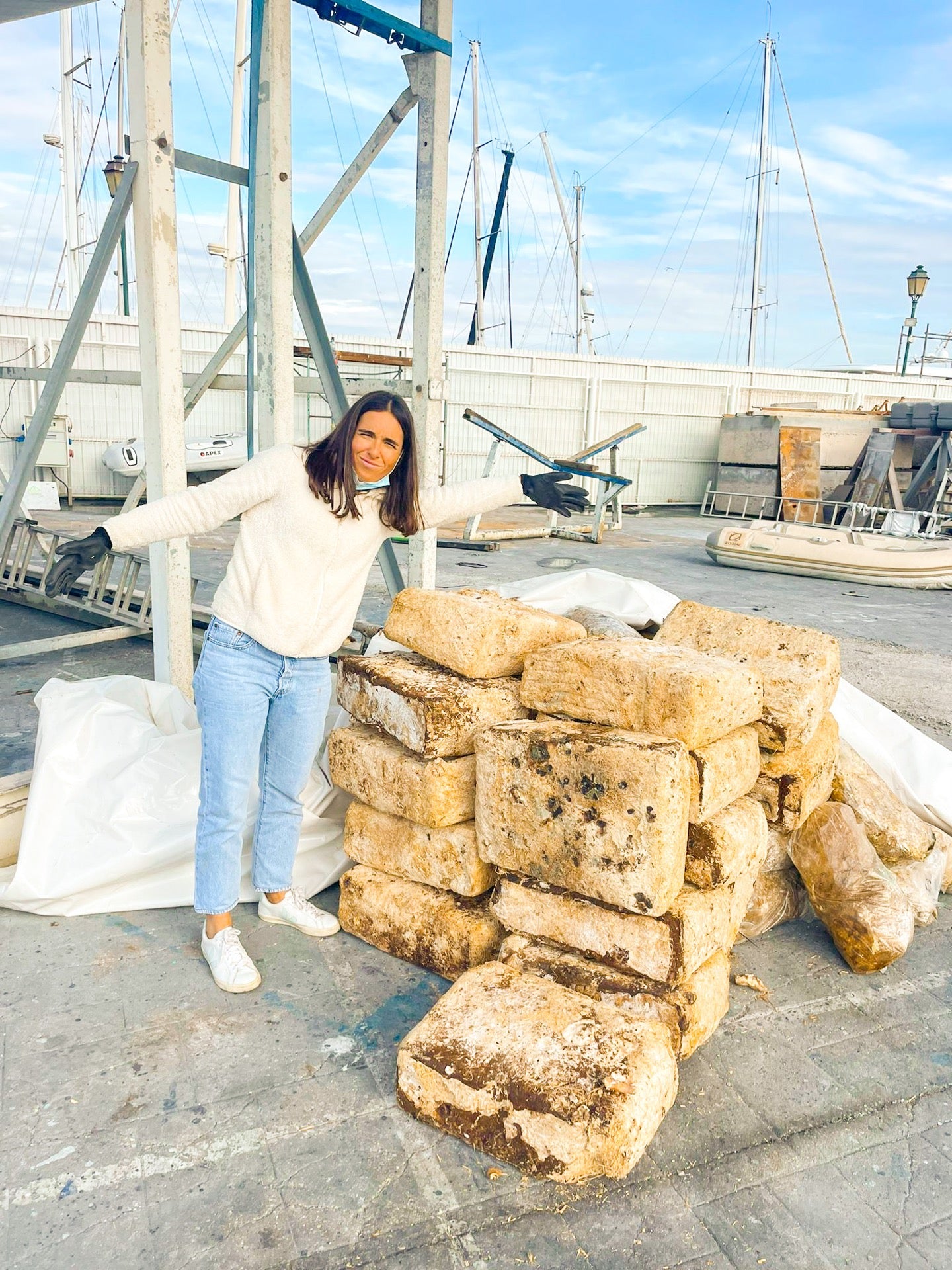 Bioremediation: The Firefighter Mushroom
A few months ago, there was an explosion of three boats in the Cascais Marina and Nãm made its debut as a helper in cleaning the waters. As? Using Nam fertilizer bags to absorb and treat oil spills left by boats.
Sounds crazy, doesn't it? This was the Nam team's pilot experience in this branch of science, thanks to our Carolina Gonçalves (better known as "Pimpim") who joined forces with the Movimento Claro association.

This time we recorded the process by interviewing the main person responsible for this day in Cascais, Pimpim. Here is an excerpt from the interview:

M : How did you know that it was possible to clean up the oil spill using Nam fertilizer?
Q : I saw this in a study that was done following the oil spill from BP's Deepwater Horizon , an oil platform that caused a large spill in the Gulf of Mexico in 2010. In the National Geographic documentary, one of the study groups uses mycelium of Pleurotus Ostreatus to degrade petroleum hydrocarbons and then Mushrooms were born! This process is called Bioremediation.

M : What is Bioremediation?
Q : Bioremediation consists of using living organisms to treat a contaminated environment to reduce the concentration of pollutants to non-toxic levels.
In this process, the oyster mushroom mycelium degrades lignin, which is the molecular structure of most plants/cellulose and which is exactly the same molecular structure as hydrocarbons. It is therefore natural that the mycelium is a fundamental agent in the degradation of hydrocarbons. and capable of converting lignin into CO2 and water.
M: Was it a "copy/paste" process? Or was there any possibility of this failing?
Q: In the documentary the process was carried out on land... they placed a large tarpaulin around the oil and mixed the mycelium. We did something different and threw our production waste rich in mycelium into water (sea) in order to act as a sponge and absorb toxic oils and then carry out the process on land.  of hydrocarbon degradation.

M: In the documentary you saw, they used mycelium. You used Nãm fertilizer (production residues) , correct ?
Q: Yes! But Nam's fertilizer still has a lot of active mycelium, so the principle would be the same, with the salt water variant, and we only used "waste" from mushroom production.

M: Are the mushrooms that grow from this bioremediation process normal mushrooms? Edible?
Q: They are normal but we advise against ingesting them. They appear to be normal, the same as ours here at Nam, but they are mushrooms that grew by feeding on hydrocarbons, so they cannot be consumed by us.

M: So... these mushrooms were born just to separate what is toxic from what is natural and, thus, clean the planet?
Q: Yes, exactly!

M : They are firefighter mushrooms, therefore!
Q: Exactly! (Laughter) 
M: What other associations do you know in Portugal that are committed to the use and study of bioremediation?
Q: Well, there are several! The one closest to me is the Os Aprendizes school in Cascais. In partnership with the Lusófona University,  10th grade students are using our mycelium to test its effectiveness in salt water contaminated with hydrocarbons in order to then restore/clean areas contaminated with pollutants. They have done everything in the laboratory, with a view to applying this at sea.

M: Wow! They are very young. What is the main objective of their study? Can you do everything alone?
Q: They're between 15 and 16 years old, it's incredible! The project always progresses under the supervision of the Universidade Lusófona and the Science Teacher of the Apprentices . The University's main person responsible for this branch of science is Professor Filipe Carvalho. All stages of the process go through it. The objective of the study is to understand  if in salt water the mycelium can clean/degrade hydrocarbons and their derivatives.
M: If the experience works, what is the first step to take?
P: Nothing is defined yet… everything in its own time! The ideal would be to create a cleaning barrier in the marinas with our fertilizer.

M : In that case, let's wait for the results. Thank you for your availability!
Q: Yes, I'm quite optimistic. Thank you!
🍄🍄🍄
If you are interested in learning more about the properties of mycelium in terms of the degradation of hydrocarbons, you can consult the following articles:
Bioremediation of Crude Oil Polluted Soil by the White Rot Fungus, Pleurotus tuberregium (Fr.) Sing, by O. Isikhuemhen, G. Anoliefo and O. Oghale;
Bioremediation of soil contaminated crude oil, by Agaricomycetes, M. Mohammadi-Sichani, M. Assadi, A. Farazmand, M. Kianirad, A. Ahadi and H. Ghahderijani;
Mushroom as a product and its role in mycoremediation , by S. Kulshreshtha;
Mycoremediation of hydrocarbon-contaminated brownfield sites using Pleurotus ostreatus , by L. Seaby;
Mycoremediation of petroleum contaminated soils: progress, prospects and perspectives , by U. Dickson, M. Coffey, R. Mortimer, M. Di Bonito, N. Ray;
Mycoremediation potential of Pleurotus species for heavy metals: a review , by M. Kahapi and S. Sachdeva;
Removal of emerging contaminants using spent mushroom compost , by Soochow University, Department of Microbiology
Other Nam suggestions:
Deepwater Horizon BP Documentary; Fantastic Fungi Documentary - Netflix
Text: Maria Luz